Video #2:
"Confrontation on Riverbank"
by Red Warrior Camp (video length 0:08)
Video #3:
"Police Line on the Other Side of the Water"
by Cempoalli Twenny (video length 0:40)
Video #4:
"To the Drum, We Are One Heartbeat (protectors crossing the bridge)"
by Cempoalli Twenny (video length 2:19)
Video #5:
    Protectors at the bridge facing the police line. No identification on any of these officers or contractors. Mercenaries?  I was being interviewed and they shot at the reporter possibly aiming for me but a sista reporter was hit.
Video #6:
    Protectors drumming, praying, and paddling a canoe to the bridge.
Video #7:
    Protectors drumming and praying by the bridge across from the police line
Video #8:
    Protectors singing and praying on the bridge across from the police line.
Video #9:
    So moving to see these brave peaceful Water Protectors swimming the freezing cold river in November to talk to the armed, teargas spraying, "rubber" bullet (that is metal inside and can be lethal) shooting "Peace" Officers. We were there for four hours.  Today two of them turned in their badges! 
Video #10:
     NoDAPL Activists Experience Violence on the Water
– Fusion (video length 1:21)
Video #11:
   A journalist at Standing Rock was shot by police for no reason, and caught the awful moment on video
I was shot by militarized police WHILE interviewing a man on camera at #StandingRock…and here's the footage. #NoDAPL https://t.co/FfWiSCbiKf pic.twitter.com/4DRwNPkfZ9

— Erin Schrode (@ErinSchrode) November 3, 2016
Video #12:
    Protectors maced at burial site, 6 videos, 12 photos, short FB post.
Video #13:
    Part I, Today water protectors pray by the water near the DAPL construction site. Around 50 people were maced and one CNN contributor and congressional candidate was shot with a rubber bullet in the hip. More photos and videos coming out soon. We are indigenous and we are unafraid to report the truth.
Video #14:
    Part 2 Water Protectors hold space on the water.
Video #15:
    Water Ceremony met with violence.
Video #16:
    Police standing on burial grounds.
– Myron Dewey (video length 1:48:07)
Video #17:
    Illegal search and seizure
– Myron Dewey (video length 21:30)
Video #18:
    The way we get treated when we pray- with Josh Fox – Activists at the Dakota Access Pipeline won't give up despite violent clashes with police
– Now This (video length 1:18)
Video #19:
    Police pepper spray protectors headed to Turtle Island.
Video #20:
    Water Protectors/ police conflict / Erin Schrode shot by police at Standing Rock.
– Rod Webber (video length 10:18)
Video #21:
    This morning on the banks of the Cannonball River Water Protectors gathered to pray and were met by OC Spray and less-than-lethal rounds by law enforcement officers.
Video  #22:
    Warriors held a frontline! they faced at least 100+ police.
Video #23:
    Warriors face off with various law enforcement from 7 different states to protect Sacred Sites and Water from DAPL. 
Video #24:
    Police are currently desecrating the burial grounds of Alma Parkin and Matilda Galpin, the indigenous women who once owned the Cannonball Ranch where Dakota Access is working day and night to finish their pipeline though they have no permit to cross the Missouri River. They have unleashed pepper spray and tear gas on water protectors standing in the river with their hands in the air. In the last shot, notice the small tree on the top of the hill where the armored vehicles are staged. This is the grave site. This is unacceptable.
Video #25:
    Medic and Healer update, Noah.
Video #26:
    Where is President Obama?
Video #27:
    Water Protectors attacked Turtle Island
Video #28:
    Police on Turtle Island
Video #29:
    Police Violently attack protesters at Standing Rock
Video #30:
    Protectors BRUTALIZED By Cops In Standoff.
Video #31:
    #NoDAPL Protesters tear gassed while standing peacefully in the water.
#NoDAPL protestors teargassed while standing peacefully in the water pic.twitter.com/GYGCpY4ecP

— Wes Enzinna (@wesenzinna) November 2, 2016
Video #32:
     Near Oceti Sakowin camp
Video #33:
    Action on the riverbank
Video #34:
    As DAPL reaches the Missouri river, Warriors and Water Protectors built a bridge so that they can block construction on the other side of the river. Cops attacked the people with rubber bullets and pepper spray but warriors bravely fought back and lived to fight another day.
Video #35:
    Today's action at the river – indiscriminate pepper spraying.
Video #36:
    Prayer walk to 1806 bridge starting out.
Video #37:
    Turtle Island Videos
– Mike Fasig (video length 1:05)
Video #38:
    The Hill
– Mike Fasig (video length 1:32)
Video #39:
    Canoes 
– Mike Fasig (video length 0:33)
Video #40:
– Mike Fasig (video length 1:58)
Video #41:
Video #42:
     Far shore footage, nothing closeup
Video #43:
    Far shore, water protectors heading home.
Video #44:
    Testimony afterwards:  Reflection of day's events. 100 officers in riot gear, over 20 snipers, bear pepper spray, I was hit 3 times in face with pepper spray. two were hit with rubber bullets, one in the head and one above kidney!!
Article With Embedded Video:
A journalist at Standing Rock was shot by police for no reason—and caught the awful moment on video
Photos:
    Cold water protector in water.
     Five frontline photos
     Today many of our protectors tried to cross the river to pray on top of a hill where Oceti Sakowin ancestors are buried.
   Map delineating Burial Grounds
– Myron Dewey posted an important map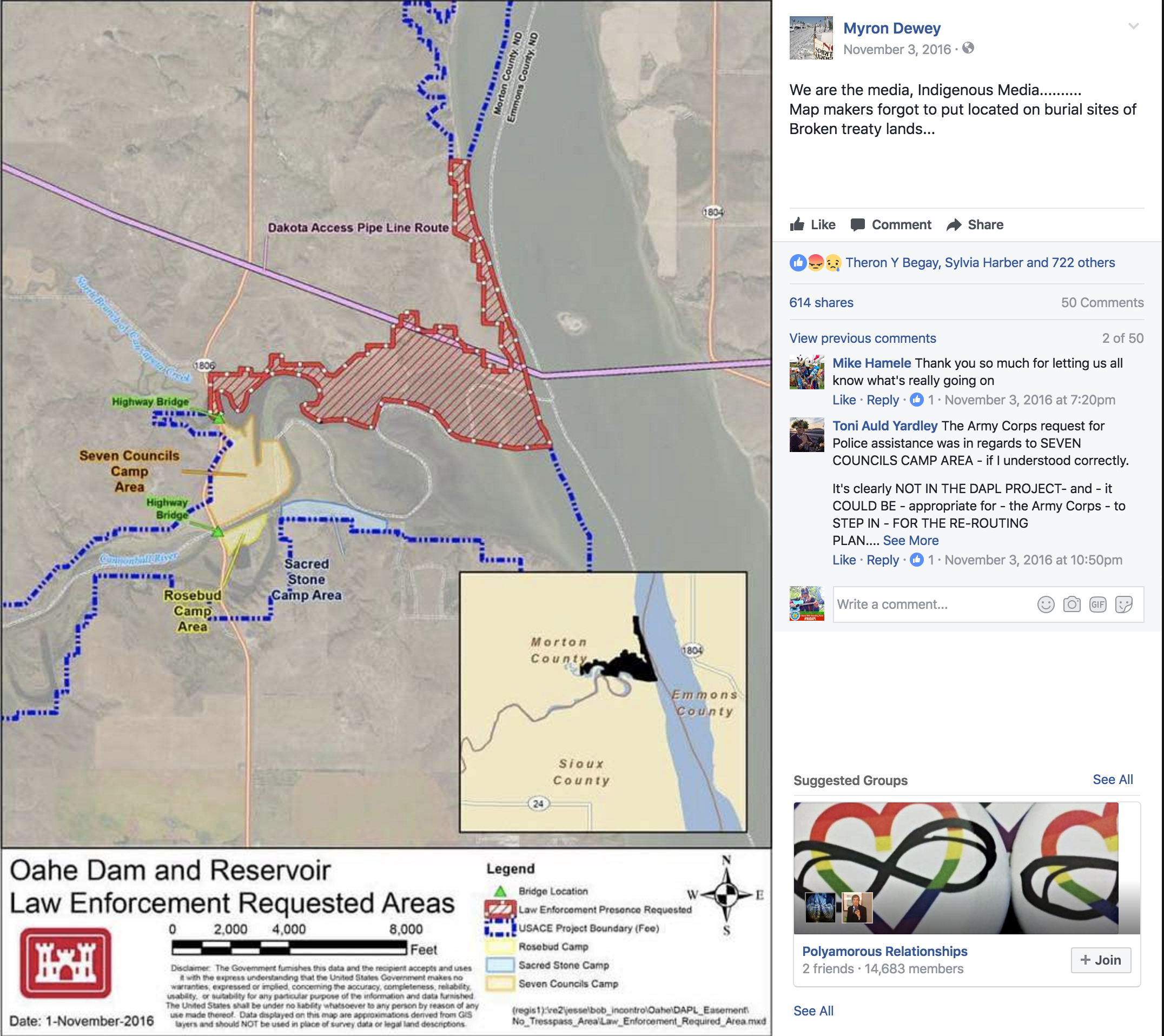 Pipeline a quarter mile from river! Obama: waiting weeks is unacceptable!!
People gassed while standing in the water
   Cops on shore and boat.
    Riot police injure over 100 people defending Standing Rock burial grounds.
http://sacredstonecamp.org/blog/2016/11/3/riot-police-injure-over-100-people-defending-standing-rock-burial-grounds
    Row of cops and water protectors in the water
https://twitter.com/Tamara_APTN/status/793865827237949440/photo/1
Photos & Videos with Broken Links That Need Recovered:
    50+ Law Enforcement at the sacred site on Army Core of Engineering. They destroyed a bridge we made for our elders to head over and pray on the land they are disturbing. Law enforcement broke the bridge and threatened to arrest anyone crossing the bridge