The following map shows the ancestral lands of various tribes who are indigenous to the great plains region (dark green sections) in comparison to the locations of their current reservations (orange sections):
Click to Enlarge: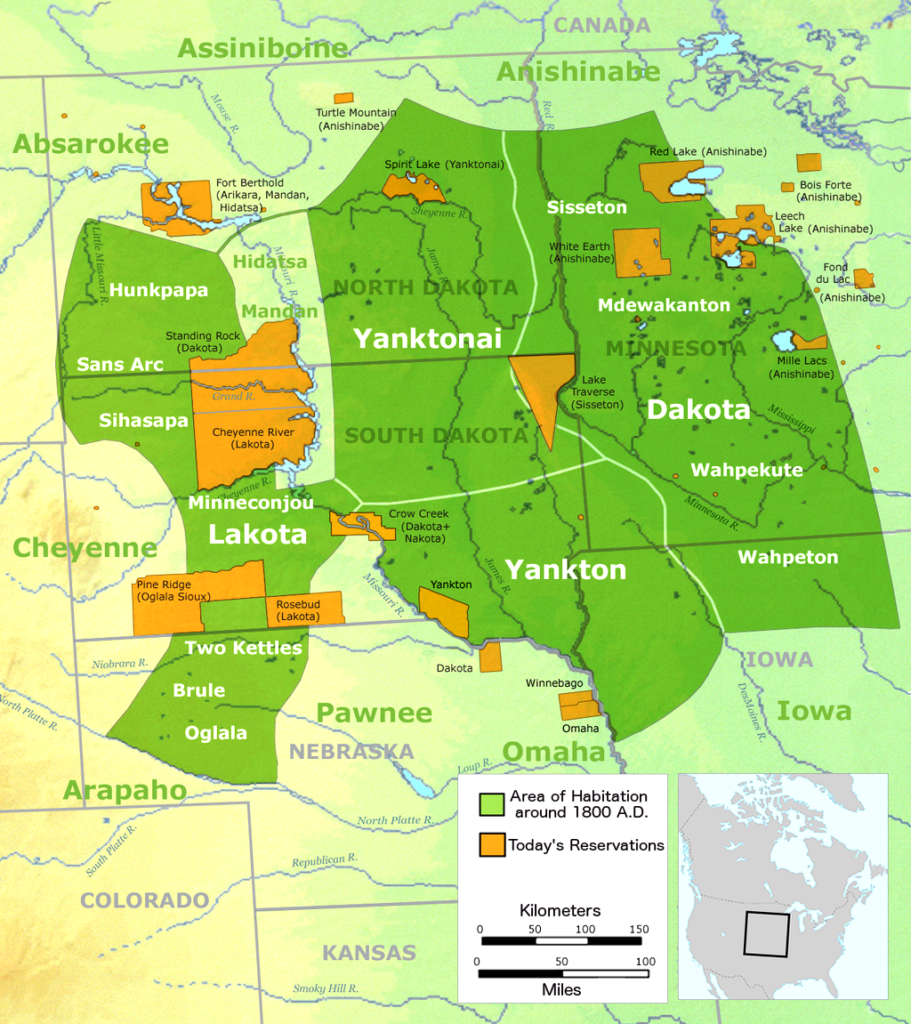 Above map from WikiWand, "Dakota (people)": www.wikiwand.com/de/Dakota_(Volk) Retrieved 8-4-2017.
     The U.S. currently has three major hiking trails, the Pacific Crest Trail, the Continental Divide National Scenic Trail, & the Appalachian Trail:
Click to Enlarge:
Special thanks to  U.S. Embassies for the above map we're utilizing in accordance with Fair Use.
    We propose creating a fourth trail, tentatively called "The Oceti Sakowin Heritage Trail" to connect Lakota, Dakota, Nakota, & surrounding Reservations and communities via a recreational hiking & camping trail so hikers can walk, forage, learn, and connect with nature. 
     The project will create thousands of jobs, paying to people re-sow native prairie grass along a mile-wide corridor (where feasible) surrounding the trail. Economies of reservations & local communities will benefit from the recreational activity as Bed & Breakfasts, hostels, & outdoor hiking gearstores are sure to crop up.  In the United States, the Outdoor Recreation Economy is responsible for:
6.1 million American jobs.
$646 billion in outdoor recreation spending each year.
$39.9 billion in federal tax revenue.
$39.7 billion in state/local tax revenue. [1]
     Educational & historical markers will teach hikers about the plants, animals, & other biological organisms they'll encounter along the way.  Other markers will teach about the history & cultures of local tribes, thus raising appreciation for, awareness of, & recognition for their heritage.  This project could be a model for similar projects around the world – a way to restore ecosystems and bring people together, thereby creating a "clean economy". 
Special thanks to Keith Farmer on Pinner for the above commemorative of Sitting Bull we're utilizing in accordance with Fair Use.
     Native animals will be reintroduced once the trail has been planted & secured.  People will be able to forage, learn survival skills — fire making, water purification, foraging, etc. — thus finding a renewed vigor for life by reconnecting with nature.  The proposed trail moves primarily along waterways, & may need to be adjusted for logistics purposes as they're uncovered.
Proposed Location:
Click to Enlarge: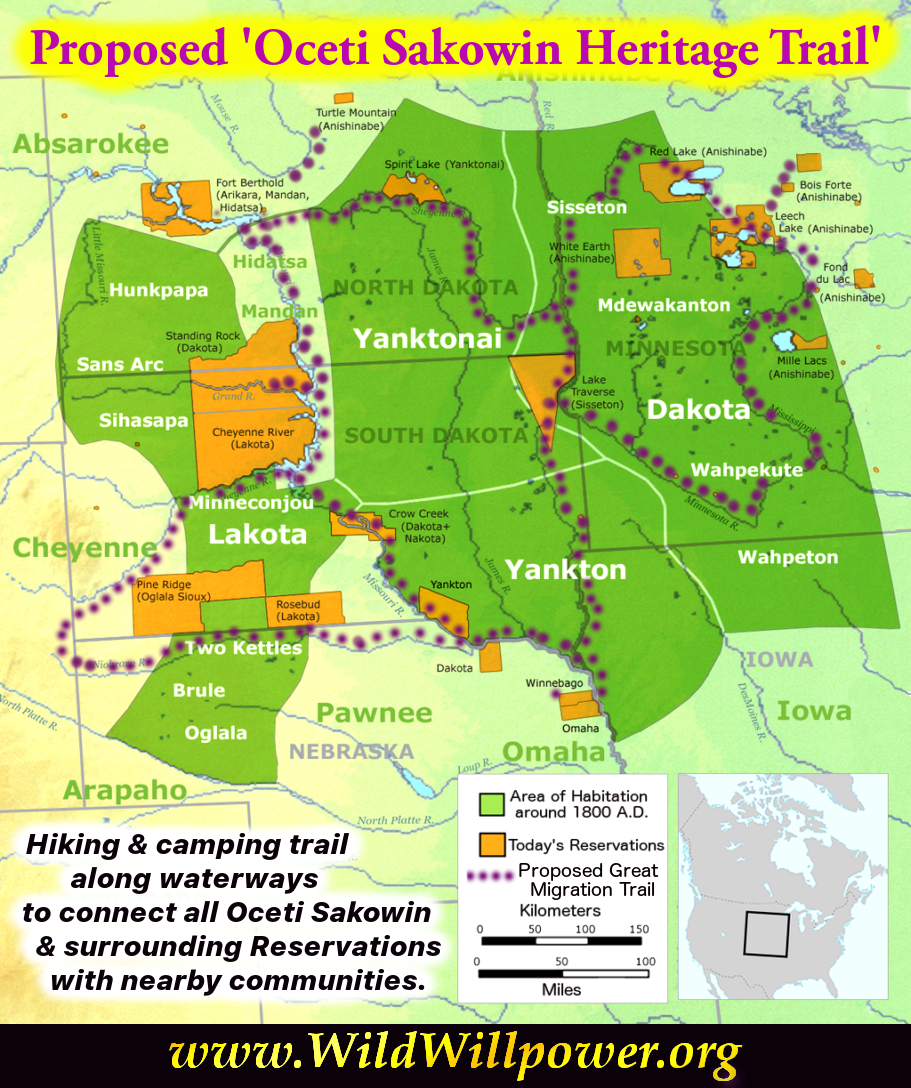 The Wild Living Skills Database & Smartphone App will provide an excellent platform to learn from Native teachers so that hikers can learn about wilderness safety, conservation, & survival skills.  Positive-Impact Harvesting Techniques & fire safety educational materials will ensure ecosystems remain healthy instead becoming overrun, thus ensuring communities will remain safe.
Please Sign & Share:
Notice:  The Petition to enact Civilian Restoration Corps & thus to pay people to develop & re-plant the Oceti Sakowin Heritage Trail will be available May 1, 2018 both here and on our Petition Drive.  Please contact us if you have any suggestions or join our campaign team.
References:
[1]:   Outdoor Industry Association, "The Outdoor Recreation Economy":  www.asla.org/uploadedFiles/CMS/Government_Affairs/Federal_Government_Affairs/OIA_OutdoorRecEconomyReport2012.pdf