Standing Rock Sioux Tribe released the following statement & article in regards to BIA officers beating Water Protectors outside Sacred Stone Camp with billie clubs on 2-4-2017; the article referenced in the below post may be accessed below: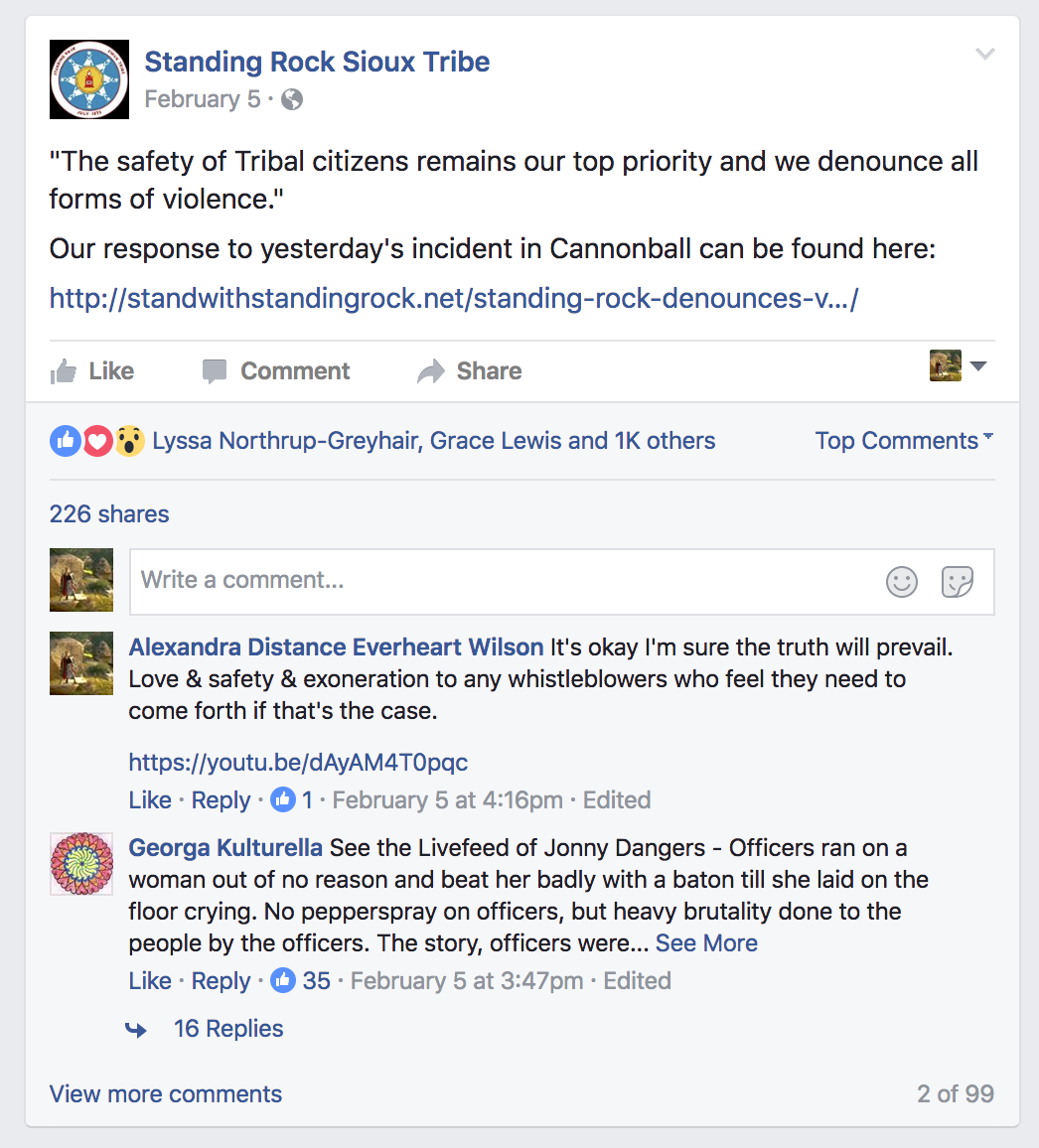 The article referenced in the above post may be accessed HERE:
Transcript:
Cannon Ball, N.D. — "The Standing Rock Sioux Tribe denounces any violence and it is very important to maintain peace on all sides. Although we don't know all the facts, the Bureau is conducting an investigation.
From information provided thus far, we understand that a tribal citizen of the Cannonball community called the police due to individuals blocking road access to the caller's home. When law enforcement arrived at the scene, officers were subsequently pepper sprayed by the individuals at the roadblock. This led to an altercation and arrests at the scene.The safety of Tribal citizens remains our top priority and we denounce all forms of violence.
We ask that our allies stand with us and join us on the legal challenge ahead. The Tribe will be in front of the court tomorrow continuing to press forward on it's anticipated legal challenges to any Trump reversal of the EIS.
We need your voice to help Standing Rock demand a fair, accurate and lawful environmental review of the pipeline. Please contact your Congressional delegation to ensure that happens.
We are heartened by the successful legal challenge against the discriminatory travel ban overturned and sustained this weekend. We believe DAPL project requires the same legal scrutiny and consideration.
We must stand together against actions and policies that unlawfully discriminate and hurt sovereign nations and Native Americans."
###
Contact
Chelsea Hawkins
[email protected]
206.556.1653
Sue Evans
[email protected]
253.592.1590