This page is continued from Wilson v. State of North Dakota and Conspirators:
**************************
     The following September 6th, 2016, Democracy Now!  report is referenced on page 8 of the above Claim: the above claim – one of many videos released that day which evidence attacks dogs being released on mostly indigenous civilians, & also of ancestral burial sites being desecrated:
    This report by Lawrence O' Donnell is also referenced on page 8 of the claim, which brings the circumstances into historical context:
    The following 4 PDFs are referenced on page 9 of the Claim as the "Pipeline Bursts: Their Causations, and the Deaths, Bodily Injuries, & Economic and Ecological Damages they inflicted 2009-2016" report:
Pipeline Bursts; Causations, & the Deaths, Injuries, & Damages they Inflicted 2009-'10
Note:  Pages 13-17 evidence a pipeline rupture which causes oil to travel through the soil more than 100 feet, & then contaminate a creek that is a local drinking water supply.  DAPL is built 92 feet below the surface of the riverbed.
Pipeline Bursts; Causations, & the Deaths, Injuries, & Damages they Inflicted 2011-'12
Pipeline Bursts; Causations, & the Deaths, Injuries, & Damages they Inflicted 2013-'14
Pipeline Bursts; Causations, & the Deaths, Injuries, & Damages they Inflicted 2015-'16
    Also page 9 of the Claim  references North Dakota Geologist John Bluemle's May 27th, 2015 report entitled "EARTHQUAKES", which evidences that on Monday, July 8th, 1968, "the State Capitol Building shook" when "a 4.4-magnitude earthquake… centered just southwest of Huff… was felt over a 3,000-square-mile area". Huff is located approximately 25 miles from where DAPL crosses Lake Oahe!  Furthermore, there have been three earthquakes with their epicenter in the Williston area in 1915, 1946, and 1982, which is where the north end of DAPL crosses the river!  DAPL is not earthquake proof. Due to the face that DAPL is located ~92 feet below the surface of Lake Oahe, when a rupture does occur, digging 92 feet beneath the surface of the river to stop the rupture will prove arduous & costly, and further contamination will occur & further damage the water supply during that time, thereby causing several tribes, wildlife, & U.S. Citizens to suffer, endangering their very survival, likely causing several deaths.
"Earthquakes" report: http://johnbluemle.com/tag/earthquake-history/
Kevin & I Began Hitchhiking to Standing Rock on September 6th, 2016:
    We had only recently been robbed in California, & this cause is dear to us; for many years I had been documenting ethnobotanical plant uses & traditional wild living skills with Lakota/Cherokee/Northern Cheyenne elder Richard Lonewolf in the Sequioa National Forest / Mojave Desert area for many years.  In addition, I had been studying pro se litigation primarily for the purpose of enforcing one's civil rights against color of law crimes.  Due to the fact that Native Americans were calling out for help from people around the world, & I had skillsets which were particularly needed, it felt apparent to both me & my partner Kevin that we ought to just get our belongings together, have faith, & hitchhike to Standing Rock.  Some photos from the hitchhike: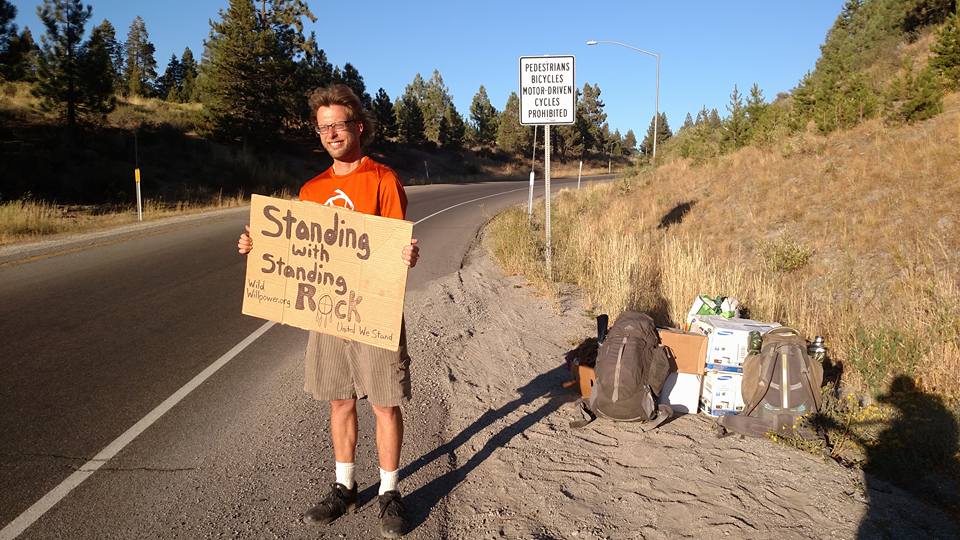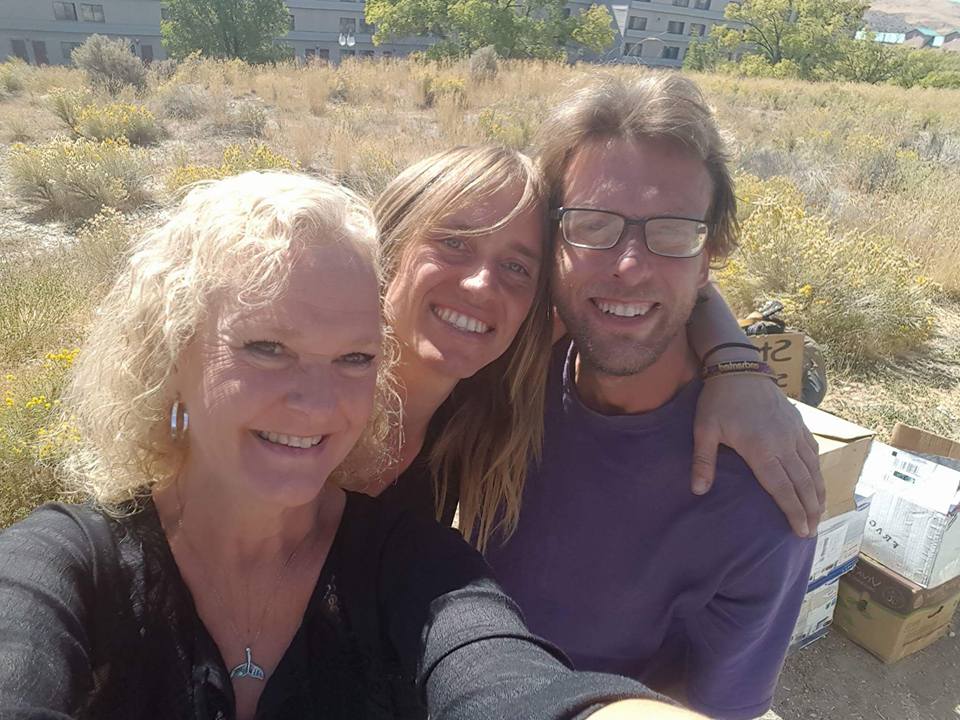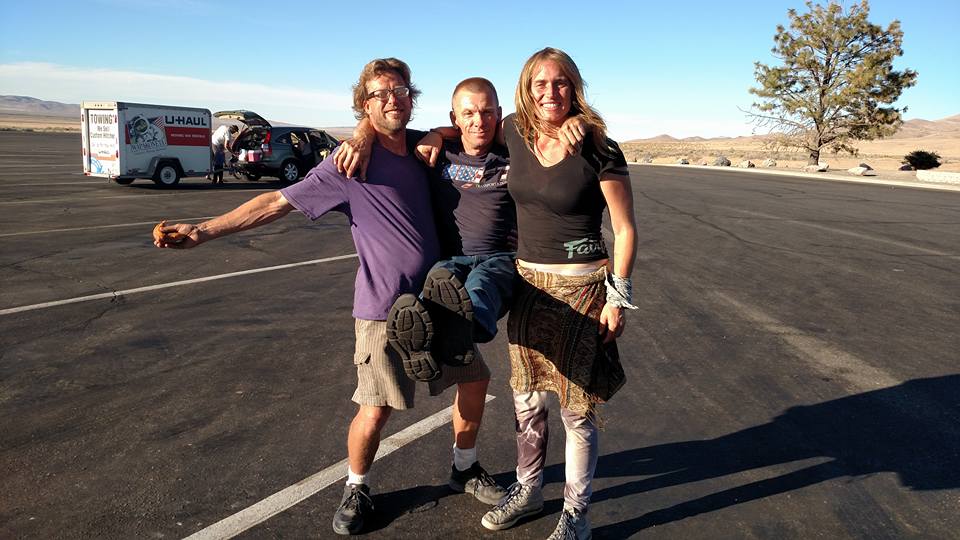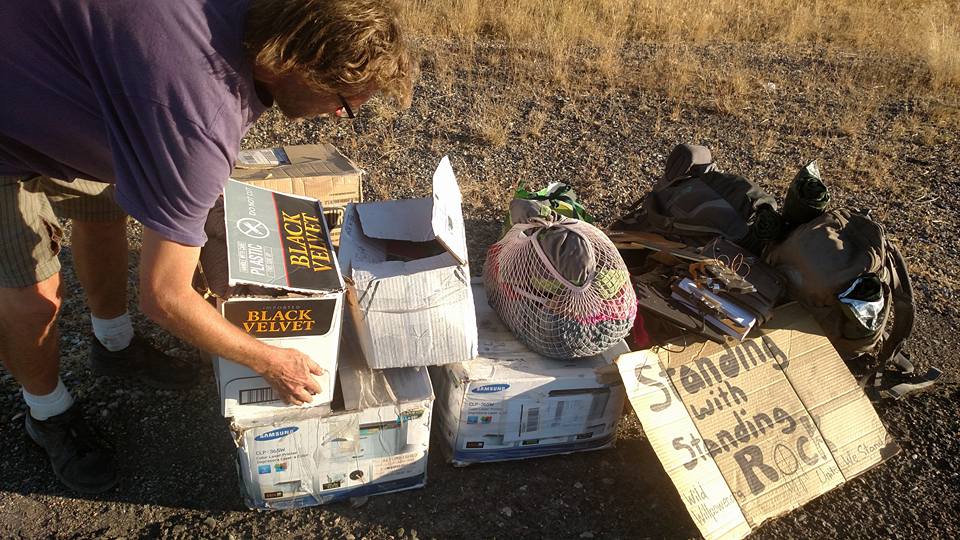 Brief Interview w/ Some Folks who Picked Us Up Hitchhiking on the Way Here:
We Arrived on September 20th:
    We arrived to Sicangu aka Rosebud Camp on September 20th, & after a short stay moved to  Oceti Sakowin Camp.  Soon after we moved Sacred Stone Camp, where we would stay for many months to come.  Every day prior to winter I would hitchhike to either the public library at Sitting Bull College or to Prairie Knights Casino, from where I'd continue compiling casework on a daily basis.  There at Sacred Stone Camp, there was a big sign which hung above the "sacred fire" where people would gather; many signs such as this were a constant reminder of the 1851 Treaty of Fort Laramie and 1868 Treaty of Fort Laramie:
Download the PDF:  Part 1 Claim (includes Testimony) Against ND & Local Gov't Officials by Alex "Distance" Wilson
I Began Compiling History to Bring Clarity:
     I began reading the treaties prior to arriving at Standing Rock via the history section on the Standing Rock Sioux Tribe's website, & upon additional research noticed that Article V of the 1851 Fort Laramie explains that the entire Missouri River belongs to the 'Sioux & Dakota nations, as explained within page 12 of the Claim.
   Following additional research, I compiled the following:
Analysis of the US & Tribal Fiduciary Relationship Explained, Court Rulings & History pages 1-78
Next section of the above PDF coming soon.
    In order to further explain context to these case rulings and to bring context to both treaties and the implications regarding the cultural convergences, I then compiled the following PDFs.  Intellectual property & copyrights reserved:  
Note:  The below PDFs, though thorough, will be added to in the coming years, however at this time it is of direly urgent that they are submitted in their current form to the courts due to train of abuses Water Protectors have faced, coupled with the immediate danger many now find themselves in with the courts after having been falsely accused while demonstrating their earnest & lawful , Constitutionally-protected prayers & protests due to legitimate & sincere concern regarding the safety of the water, wildlife, & the welfare of the tribes.  Most Water Protectors, from my personal conversations with many of them, are unknowledgeable in courtroom procedure, & are facing the courts the best they can, but are scared of the courts, especially due to perceived historical violations of the Constitution & violence against Native Americans in general.
Ch 1 Pre-Contact Tribes of the Great Plains & Black Hills, pages 1-55
Ch. 2- Midwest Tribes' First Contact w: French & Spanish, Introduction to Horses & Guns pages 57-89
Ch 3 European History, The Union of The Crowns, & The Colonization of Eastern America pages 91-146
Ch 3 European History, The Union of The Crowns, & The Colonization of Eastern America pages 147-193
Ch 4 American Revolution, The Great Law of Peace, & The New U.S. Constitution pages 195-244
Ch 4 American Revolution, The Great Law of Peace, & The New U.S. Constitution pt 2 pages 245-287
Ch. 5- 1781-1839; Tecumseh, War of 1812, Andrew Jackson & Indian Removal, Cherokee Syllabary pt 1 pages 289-334