Article with Embedded Videos #1:
Category – The Aircraft That Haunted Standing Rock
Unicorn Riot, "Militarized Police Arrest 21 Water Protectors in DAPL Work Stoppage" – includes footage & written documentation of helicopters circling as well as a crop-duster airplane spraying the area with some sort of chemical.  21 arrests.
Article with Embedded Videos #2:
Censored News, "Breaking News – Surrounded by Police" – police loaded shotguns, dropped tear gas or chemical substance, on water protectors. Armored vehicle on site. Excessive force by police as 21 water protectors arrested today.
Article with Embedded Video #3 (Pub. 9/29/16):
 Telesur, "Military-Style Raid Ends Native Prayer Against Dakota Pipeline"
Video #1:
     Footage of militarized reaction to unarmed folks praying on site
– Unicorn Riot (video length 1:58):
If the video doesn't load, try another browser or click here: https://www.facebook.com/unicornriot.ninja/videos/349504488717112/
Video #2:
Category: Landmark Events
     Very beautiful gathering of people singing an honor song along the section of pipeline that President Obama told DAPL not to build.
– Thomas H. Joseph II (video length 10:31)
If the video doesn't load, try another browser or click here: https://www.facebook.com/ThomasH.JosephII/videos/10210794323279368/
Video #3:
     Cops pull rifles and block people in.   The following live video was broadcast by Thomas H. Joseph II uploaded the following video alongside this message:  "We need everyone able to come join us at Standing Rock.  Today's actions were uncalled for.  The police were a direct threat to women and children.  We gathered in prayer unarmed, prayed, sang songs, and attempted to leave.  No threats.  No vandalism.  No violence was taken on our part. See my previous video evidence.  Flood the White House with phone calls and demand Obama to act and enforce his previous declaration of no construction. With state police protecting Dakota Access Pipeline his words are meaningless.  White House Phone Number: 202-456-1111″
– Thomas H. Joseph II  (video length 8:29):
Video #4:
     Interview with folks who were at scene of riot police; white folks share their surprise at treatment of NDNs.
– Myron Dewey  (video length 4:25):
If the video doesn't load, click here: https://www.facebook.com/myron.dewey1/posts/10103949362767319
Video #5:
Category: The Aircraft That Haunted Standing Rock
     Video of plane releasing some substance.
– Travis Harden  (video length 0:54):
If the video doesn't load, click here: https://www.facebook.com/uncledaga/videos/vb.100000392103759/1208415289181530/?type=2&theater
Video #6:
     Riot Police get a big surprise at Standing Rock when Water Protectors halt pipeline construction
– Todd Darling  (video length 5:56):
Video #7:
 (pub. 10/2/16):  Armored Trucks, Heavily Armed Police Swarm Native Americans.  The following video was uploaded to Youtube by Todd Darling Films with the following text:
    "On Sept. 28 people from the Standing Rock, ND camps traveled to a nearby oil-pipeline construction site. They planned to carry out a non-violent direct action in hopes of halting construction. Indigenous youth started the camps as a way of physically blocking construction of a massive oil pipeline that would carry nearly a half million barrels of oil a day from crisscrossing the Missouri River and sacred, tribal sites. The Missouri River provides drinking water for the Standing Rock Sioux tribe and millions of others downstream. When the group of "Water Protectors" arrived at the construction site, no workers were present. Instead, a large contingent of police were on hand. After prayers, singing, and some offerings, the "Water Protectors" made ready to depart. But, heavily armed police surrounded the group and moved in. Approximately 50 police, many carrying military style automatic weapons, arrested 21 people on charges of criminal trespass and other charges. No weapons of any sort were found by the police. The rest of "water protectors" returned to their camp where over a thousand people now reside."
– Todd Darling  (video length 5:18):
Video #8:
    Long-Range Acoustic Device present today: "The LRAD can emit a tone higher than the normal human threshold for pain and is capable of permanently damaging hearing."
Video #9:
Unicorn Riot: "On Wednesday, September 28, water protectors prayed at a #DakotaAccessPipeline construction site. Police arrived with armored vehicles, shotguns and automatic weapons, deploying an MRAP, a Bearcat and aerial chemicals. #NoDAPL."
Read More: http://www.unicornriot.ninja/?p=9518
For more LIKE Unicorn Riot"
If video doesn't load, click here: https://www.facebook.com/unicornriot.ninja/videos/349504488717112/
Video #10:
Uploaded by John L. Wathen w/ following text: "A group of very peaceful people gathered to pray for the earth and that the US Government would do it's job and uphold international treaties. Police came if full riot gear and fully lethal weapons to harass un on a public road."
      Organizer helps keep everyone peaceful, officers arrive heavily armed.  A woman approaches the line & offers a handshake, which leads to an unexpected scene with Water Protectors lining up to shake hands with officers. 
Article #1:
Anti-Dakota Access Pipeline Protestors Greet Heavily Armed Police with Handshakes
Posts that were deleted:
About that crop duster: 
***********************************
Where You At Standing Rock?  Write Your Testimony.
***********************************
This website is being compiled by Wild Willpower.

***********************************
Special thanks to www.NoDAPLarchive.com for all your hard work helping to compile the archive.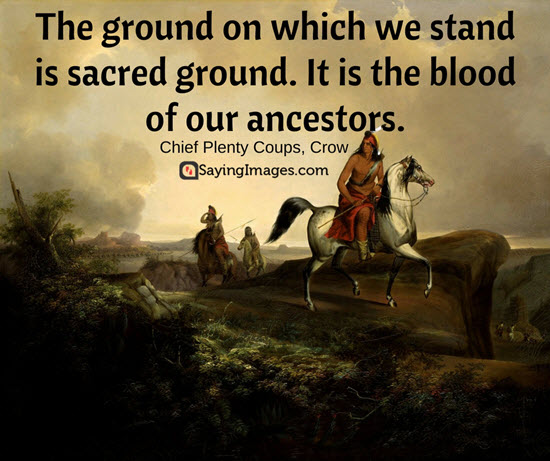 Above graphic from SayingImages utilized respectfully in accordance with Fair Use.