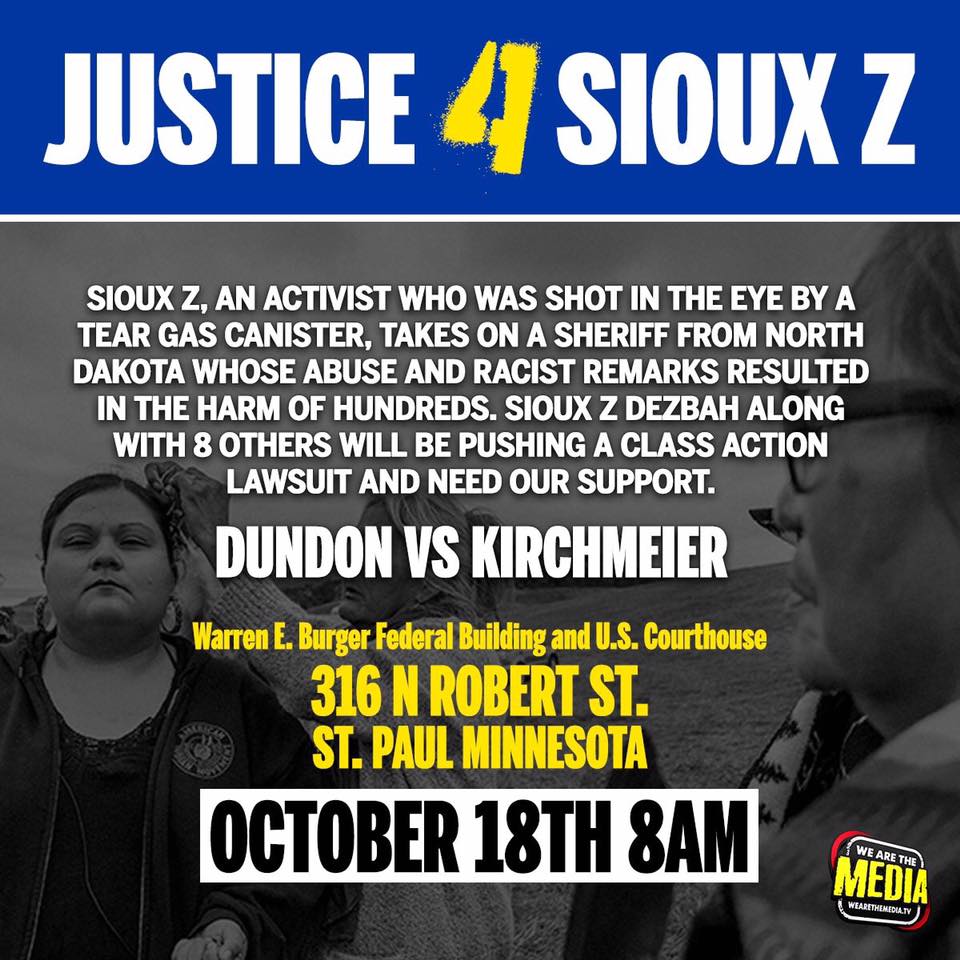 Led by Attorneys Alexsis C. Beach & Rachel Lederman, Dundon v. Kirchmeier is a federal civil rights class action lawsuit challenging police violence on the night of November 20, 2016, at Backwater Bridge near the water protector camps and the site of the DAPL pipeline in North Dakota.  The case was filed on November 28 in the U.S. District Court for the District of North Dakota, by nine named plaintiffs, on behalf of all persons who were injured by law enforcement that night.
If you were injured on or near Backwater Bridge on the night of November 20, please input your information here.
Link to Official Website: 
www.sfbla.com/water-protector-class-action-civil-rights-lawsuit/
More information on the case:
     Lead plaintiff Vanessa Dundon is a Navajo water protector who was struck in the eye with a teargas canister as she was trying to help a journalist to safety, and suffered a permanent vision loss. The plaintiffs are asking the court for an injunction restricting the Morton County Sheriff and other law enforcement's use of water cannons, fire hoses, explosive grenades, rubber/ plastic bullets and other dangerous munitions, and for monetary compensation for all who were injured. The plaintiffs and putative class are represented by an experienced team of Water Protector Legal Collectivecooperating attorneys including Rachel Lederman, Melinda Power, and Janine Hoft.
     The water protectors have had an uphill battle in the Bismarck-based federal court. Although the WPLC legal team filed 50 sworn declarations from water protectors, journalists, legal observers, and medical personnel who were present during the event, as well as an expert opinion from former Baltimore police chief Tom Frazier, finding the use of force unnecessary and excessive, Chief Judge Daniel L. Hovland denied the plaintiffs' preliminary request to place any restrictions on the law enforcement use of force, without even holding a hearing. The legal team filed an immediate appeal to the Eighth Circuit Court of Appeals, and asked that the district court proceedings in Bismarck be temporarily put on hold until the Eighth Circuit decides whether Judge Hovland's order was wrong.
     Law enforcement asked the Court of Appeals to dismiss the appeal, but the Court said no. Both sides have now filed their legal arguments, also joined by the ACLU with a friend of the court brief supporting the water protectors. The water protectors' reply brief is due August 15, and we expect the Court of Appeals to schedule a hearing, most likely in St. Paul, MN, some time between December, 2017, and June, 2018. Once the appeal is decided, the case will return to the federal court in Bismarck. Watch this page or Water Protector Legal Collective on Facebook for updates. Justice could take years but we are determined, so if you were injured that night, it is important to keep your contact information up to date with us filling out this secure form.
***********************************
Back to Cases in Progress
Were You At Standing Rock?  Write Your Testimony.
Order Your State's Discovery – upon request, the state is required to provide to you all evidence they gathered against you.
***********************************
Thank You for Standing!
Would you like to Help Spread the Word about www.StandingRockClassAction.org?
Feel free to print out these cards on quality cardstock paper & hand them out:
StandingRockClassAction 10 cards PDF
****************************************
Special thanks to Think-AboutIt. com for the above graphic we're utilizing in accordance with Fair Use.
***********************************
This website is being compiled by Wild Willpower.

Special thanks to www.NoDAPLarchive.com for all your hard work helping to compile the initial archive.