Article with Videos Embedded:
9-28-206: Unicorn Riot, "Militarized Police Arrest 21 Water Protectors in DAPL Work Stoppage" – includes footage & written documentation of helicopters circling as well as a crop-duster airplane spraying the area with some sort of chemical.
Video from 9-28-2016:
Video of plane releasing some substance.
– Travis Harden (video length 0:54)
If the above video doesn't load, click here: www.facebook.com/uncledaga/videos/vb.100000392103759/1208415289181530/?type=2&theater
10-3-2016: HuffPost, "Helicopter Allegedly Hired by North Dakota Authorities Found Flying in Violation of FAA Rules" by Georgianne Nienaber –
Excerpts from Article:
"For the past several months, protesters have been harassed and frightened by frequent low-altitude helicopters and fixed-wing aircraft flying surveillance over them. Two such surveillance helicopters are Bell Ranger 206B helicopters. These are not lightweight aircraft. In the 1960s, the U.S. Navy used the 206A as its primary training helicopter. The 206B Jet Ranger was introduced in 1971. In 1993, the U.S. Army approved the Bell 206B-3 as its primary training helicopter. A local company known as Double M Helicopters, Inc. out of Mandan, ND owns one of the surveillance helicopters. Another of the helicopters, flying on behalf of local law enforcement and flying at low altitudes over the heavily populated main Oceti Sakowin encampment, has been found to have been flying with registration numbers that have been altered in order to disguise the identity of its registered owners.
In particular, on September 8 and 9, a yellow Bell Ranger 206B helicopter was making low passes over this area; low enough that people on the ground could easily identify he helicopter's registration "N-numbers," which the FAA requires to be clearly visible and legible. In fact, it was also easy to see that those N numbers had been altered from their original digits. What appeared to be "N10767" was in fact an altered version of "N16757." See the photo below, taken with a 200 mm lens on a Nikon D7000 camera.
Flying with false registration is a serious violation of FAA regulations. Section 49 of the U.S. Code states that anyone " who knowingly and willfully displays or causes to be displayed on an aircraft a mark that is false or misleading about the nationality or registration of the aircraft" shall be "fined under title 18, imprisoned for not more than 3 years, or both." Given the arguable over reach of power and the use of military tactics by the Morton County Sheriff's Office since the protests began in August, this situation requires a serious discussion.
The registration number N10767 actually belongs to a fixed-wing single-engine pressurized Piper Malibu Mirage (PA46-350P), built in 2007 and owned by Kansas Development Corporation, Inc. in Junction City, Kansas. One wonders if Kansas Development Corporation, Inc. was notified of this intentional ruse.
The actual N-number for this Bell Ranger 206B helicopter, N16757, identifies it as being registered to Arnold Johnson, Jr. of 37190 US Highway12 in Mina, SD. This helicopter, with its altered N-numbers, has been seen to re-fuel at Mandan Municipal Airport (Y19), south of Mandan on Hwy 6 near Sheriff and Highway Patrol offices.
We filed an inquiry and complaint with the FAA Fargo Flight Standards District Office (FSDO). Within ten days the officer in charge replied that they had conducted an investigation "and determined that further action was warranted" and "that a compliance action had been completed."
Several important questions remain unanswered: who ordered the alteration of the N number on the Bell Ranger 206, the exact name of the person who hired the helicopter, what compliance action was taken, and the reason behind the N number falsification by Arnold Johnson Jr., or the person/entity that hired his helicopter.
Freedom of Information Act Response:
A response to FOIA request 2016-009518F6 provided some, but not all of the missing information. The FOIA response indicated that there is no official record of the person or entity that hired the Bell Ranger, but that Mr. Johnson "admitted that the registration number was altered from N16757 to become N10767." Johnson told investigators "this was due to threats made against registered owners of aircraft being flown supporting law enforcement during the oil pipeline protests near Bismarck, North Dakota."
If the Morton County Sheriff's Office ("law enforcement") or DAPL hired Mr. Johnson, the Sheriff's office and/or DAPL has broken the law by knowingly or willingly hiring an aircraft with a false N Number.
The alleged threats by opponents of the DAPL pipeline against the registered owners of other craft "being flown supporting law enforcement" are unproven, but there is a clue in Facebook posts from September 5 which have camp residents expressing alarm about another Bell Ranger 206 that was flying with proper the registration. N38HH is registered to Double M Helicopters in Mandan, ND.
According to the company website, "The owner/operator of Double M Helicopters is Monte R. Myers. He is a 30 Year veteran of the US Army with overseas deployments to Central America and Afghanistan." Double M offers power line and pipeline patrols, high definition photography, animal herding, and aerial surveys, among others services. There is a photo of Mr. Myers taken in Kandahar Afghanistan in 2004 prominently displayed on the webpage. Camp residents searched the N number, which led them to Double M Helicopters.
Psyops and Generational Trauma:
It is critical that all of this information be placed in context of the current protests as well as the historical "Militarization of Indian Country," a phrase taken from a book written by Ojibwe activist Winona LaDuke.
LaDukes's work examines in dreadful detail how the military has poisoned and exterminated indigenous populations. For those interested in more background, the book is carefully organized into sections examining the deep ties between the military and indigenous people, how the economy drives the military and vice-versa, and the military's appropriation of Indian lands.
Combine this historical reality with the generational trauma experienced by the Native American community, and it is obvious that the constant presence of aircraft over the camps filled with woman and children would naturally raise anxiety levels. Whether activists actually threatened owners of helicopters working for law enforcement is unknown. ….
Consider also, that there have been to date 95 arrested for protest activities since the start of the Dakota Access Pipeline protests. ….
Morton County law enforcement offered what seems, on the surface, to be a reasonable explanation of the yellow contrail in a press release.
According to the North Dakota Highway Patrol, the bi-plane was flying at an altitude of 400 to 500 feet and was approximately ½ mile from the protestors. But there is no FAA verification of this data, and surely the pilot would have been able to visually notice the presence of the protestors/protectors.
"It is very important that our residents are aware that the aircraft in question was an
agricultural spray plane (bi-plane) flying to a field to apply a product. The pilot noticed a DAPL helicopter in the area, and because its engine was too loud to use radio communication to identify its location, the pilot deployed a common tactic to alert the helicopter to the biplane's location. The protocol is to use vegetable oil (the same used in air shows) as a method to identify an aircraft in the area," according to the Sheriff's statement.
From Red Warrior Society (formerly Red Warrior Camp):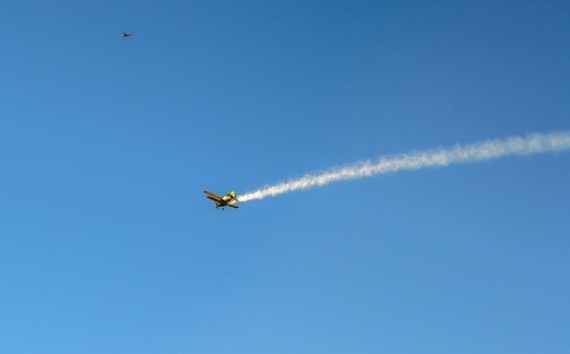 … There have been no charges filed against the Sheriff or DAPL for a possible felony offense for hiring a 4,450 pound Bell 206B helicopter with falsified registration. The FAA is a civil agency and does not have the authority to file criminal charges. The FAA has the authority to assess civil monetary penalties and/or suspend or revoke a pilot's license. Any criminal charges would be filed by the Justice Department, totally at their discretion. Nor has the Sheriff or anyone from Energy Transfer Inc. been charged with assault by the Justice Department for using attack dogs on women and children.
The cliché question presents itself. Is Sheriff Kyle L. Kirchmeier and/or DAPL above the law? What are the real reasons behind the unusual incidents behind crop dusters and fraudulent aircraft identification numbers?
We are waiting for the results of a second FOIA request. We have no timeframe on the answers, but a Public Affairs Manager of the FAA said in an email that the FAA "takes this type of violation very seriously," and urged us to continue asking the necessary questions.
UPDATE and Correction:
Arnold Johnson Jr. is the registered owner of aircraft flying under false N number. Monte R. Myers owns Double M Helicopters. A Mr. MEYERS is referenced in FOIA response (s) and according to FOIA response admitted to falsifying N number, but we do not know for sure because of spelling inconsistencies in FAA responses. We do NOT KNOW the name of the pilot, or who HIRED the helicopter. FOIA number (s) are 2017-000029F6 and 2016-009518F6 "Mr. Meyers" is identified as the "operator" of the aircraft.

Sandy Rosenthal, founder of Levees.org and filmmaker Keri Pickett (keripickett.com) assisted with research. Bonny Schumaker (onwingsofcare.org) provided aviation assistance and clarifications.
2-26-2017: "FAA Complicity in Violence against Standing Rock Water Protectors – Part 5" by LARAE MEADOWS
Excerpts from Article:
Arnold Johnson Jr. of Mina, South Dakota owns a yellow Bell Ranger 206B helicopter employed to fly over the camps. Ultimately, Johnson is responsible for the activities of the aircraft because can refuse assignments at anytime. In spite of FAA regulations to the contrary, Johnson decided the public had no right to know he was the owner of the aircraft buzzing the camps.
In order to obscure his ownership, Johnson changed the tail number on his aircraft.
A yellow Bell Ranger 206B was easily photographed while flying low over the camps on September 8 – 9, 2016 flying with the tail number N10767.
Checking the FAA tail number registry showed N10767 is the number of a Piper fixed wing, single engine airplane; not a helicopter. The Piper airplane was registered to Kansa Development Corporation Inc, in Junction City, Kansas.
Flying under a false tail number is a criminal offense under 49 U.S. Code § 46306(b)3. It reads:
"…a person shall be fined under title 18, imprisoned for not more than 3 years, or both, if the person – (3) knowingly and willfully displays or causes to be displayed on an aircraft a mark that is false or misleading about the nationality or registration of the aircraft"
A complaint was filed with the FAA. The FAA determined the further action was warranted and confirmed that compliance action had been taken.
Johnson justified his choice to falsify his tail number to investigators when he said, "this was due to threats made against registered owners of aircraft being flown supporting law enforcement during the oil pipeline protests near Bismarck, North Dakota."
Johnson's helicopter's tail number is N16757 and it has been seen over the camps at all hours of the day and night for the months since the "compliance action."
Posts that were deleted:
About that crop duster:
Link: https://www.facebook.com/diana.heideman/posts/10209241894297579
***********************************
Back to The Aircraft that Haunted Standing Rock – Meet the Owners
Where You At Standing Rock? Write Your Testimony.
***********************************
This website is being compiled by Wild Willpower.

***********************************
Special thanks to www.NoDAPLarchive.com for all your hard work helping to compile the archive.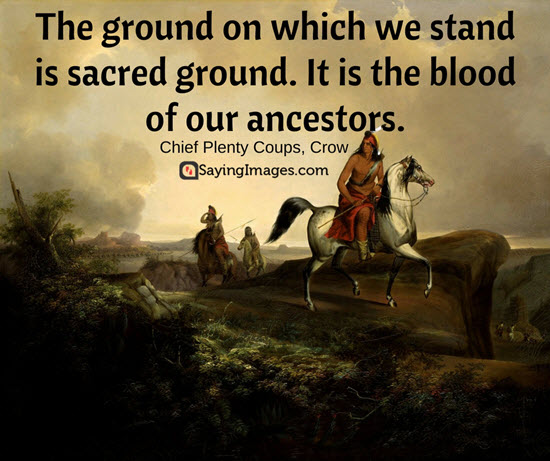 Above graphic from SayingImages utilized respectfully in accordance with Fair Use.